Father James Christmas Letter 2019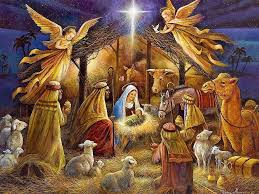 Gavels (wooden mallet) are a fixture in many of our meeting halls.  They are used to bring order and even to silence the opposition, struck to a wooden block just to one up the other.  The one who holds the gavel has the power and authority.  But who ultimately holds the gavel?  Jesus.  He is the Just Judge, Lord of lords and King of kings (Rev19:16).  The Son of the Almighty God comes to us with His scepter, with His gavel as it were.  But He comes to us as a baby.  At Christmas we celebrate His birth, and He rules from sea to sea.  Both his faithful and foes bow down in adoration; His enemies are overcome and will lick the dust as a gesture of humility and rebirth (Ps72:9). 
The Son of God is born to a family, to the sacred home of Mary and Joseph.  But in truth, Jesus desires to enter especially to broken homes.  Jesus knocks at the doors where husbands prefer to hold bottles instead of their infant child, where wives prefer their bodies over pregnancy, where young ones prefer fad over faith, where couples prefer divorce over a lifetime marital commitment.  These are the doors He knocks.  Will you open your door?  Will Jesus find room at the inn?  At Christmas Jesus knocks at our doors.  Let us crack them wide open so He ventilates our homes with peace, joy and love.  In the not too distant future, we will open the doors of our new church.  Just as we have a domestic home, the church is our communal home, a space set apart to encounter the divine, where together we may breathe the sweet aroma of peace and love that the infant Jesus brings.    
Equipped with this revelation, no matter how broken our world might be, we can still say, if I may borrow a line from Louis Armstrong, "It is still a wonderful world."  God's love is not wafer thin; His love is deeper than the ocean floor, and higher than the heavens above. 
Christmas reminds us that the infant Jesus takes the gavel in his hand to announce the good news.  He gavels the world not to render conviction but to call sinners to conversion.  He brings clarity to a confused time, liberty to an oppressed spirit, reason to an enraged mind, wholeness to a broken heart and love to a vindictive world. 
With a grateful and hope filled heart, Merry Christmas and a Blessed New Year.
Always in Christ,
Fr. James F. Oropel
Pastor
_________________________________________________________________________________________________________
Los mazos de madera son un accesorio en muchas de nuestras salas de reunion.  Se utilizan para poner orden e incluso para silenciar a la oposición, golpeando a un bloque de madera sólo uno en el otro.  El que tiene el mazo tiene el poder y la autoridad.  Pero, ¿quién sostiene en última instancia el mazo?  JESUS.  EL es el Juez Justo, Señor de señores y Rey de reyes (Rev19:16).  El Hijo del Dios Todopoderoso viene a nosotros con Su cetro, con Su mazo por así decirlo.  Pero viene a nosotros como un bebé.  En Navidad celebramos Su nacimiento, y gobierna de mar en mar.  Tanto sus fieles como sus enemigos se inclinan en adoración; Sus enemigos son vencidos y lamen el polvo como un gesto de humildad y renacimiento (Sal72:9). 
El Hijo de Dios nace en una familia, en el sagrado hogar de María y José.  Pero en verdad, Jesús desea entrar especialmente a los hogares rotos.  Jesús llama a las puertas donde los esposos prefieren sostener las botellas en lugar de su hijo pequeño, donde las esposas prefieren sus cuerpos antes que el embarazo, donde los jóvenes prefieren la moda sobre la fe, donde las parejas prefieren el divorcio a un compromiso matrimonial de por vida.  Estas son las puertas que El llama.  ¿Le abrirás tú la puerta?  ¿Encontrará Jesús espacio en la posada?  En Navidad Jesús llama a nuestras puertas.  Abrámoslas de par en par para que el ventile nuestros hogares con paz, alegría y amor.  En un futuro no muy lejano, abrirémos las puertas de nuestra nueva iglesia.  Así como tenemos un hogar doméstico, la iglesia es nuestro hogar de comunidad, un espacio apartado para encontrar lo divino, donde juntos podemos respirar el dulce aroma de paz y amor que el niño Jesús trae.   
Apoyados con esta revelación, no importa cuán roto sea nuestro mundo, todavía podemos decir, si me permite tomar prestada una línea de Louis Armstrong (trompetista y actor Americano), "Todavía es un mundo maravilloso."  El amor de Dios no es como una oblea delgada; Su amor es más profundo que el fondo del océano, y más alto que los cielos. 
La Navidad nos recuerda que el niño Jesús toma el mazo en su mano para anunciar las buenas noticias.  El se dá al mundo no para condenar, sino para llamar a los pecadores a la conversión.  Aporta claridad a un tiempo confuso, libertad a un espíritu oprimido, razón para una mente enfurecida, integridad a un corazón roto y amor a un mundo vengativo. 
Con un corazón agradecido y lleno de esperanza, Feliz Navidad y un Bendito Año Nuevo.
Siempre en Cristo,
P. James F. Oropel, Pastor